Worse Off Wednesday is a weekly meme hosted by me! The Book Buff in which we discuss characters in books who have it worse off than us.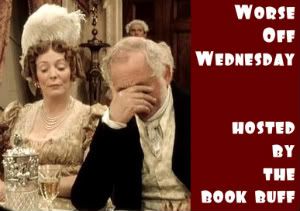 Today we are going to be talking about a lovable giant dog and children's classic: Clifford The Big Red Dog. See, there is a dark underbelly to the classic children's series that people rarely, if ever, consider.
Oh sure, being a giant dog seems all peaches and cream. When the school bus is full, go ahead and ride the big red dog to your field trip (never mind the liability involved-we'll leave that alone for right now) What? An elephant has gone missing from the circus? Clifford can fill in! Like I said, it sounds great, but when little miss Emily Elizabeth made her wish for her dog to be huge, did she even consider the havoc gigantism wreaks on a body? Didn't think so, for starters...
Sufferers of this disease often develop frequent infections, and are more likely to experience kidney failure, other health problems "[include] hypertension (high blood pressure), diabetes, obstructive sleep apnea (when breathing stops during sleep), carpal tunnel syndrome (pain, numbness or a tingling sensation in the hand or fingers). So people with untreated acromegaly gigantism, in addition to the growth
problems
,...can [experience] premature death because of the other
associated
problems
.
They get organomegaly--so all their organs get big, too--[and] they have a higher incidence of heart disease. Then you couple that with hypertension and diabetes and you can imagine they don't live very long." *
In summation my worst health problems are a sensitive tummy and allergies. Clifford's heart is too big, he has diabetes, his joints ache, he can't sleep and he has an owner who would wish all this crap on him. So I'd say yeah, Clifford the Big Red Dog is worse off than me!
Do you want to participate in Worse Off Wednesday? If so, please grab the Worse Off Wednesday icon at the top of this post to include in your own post. After you've participated, head back here and leave your link in my Mr. Linky so all of my followers can check you out!