Mingmei Yip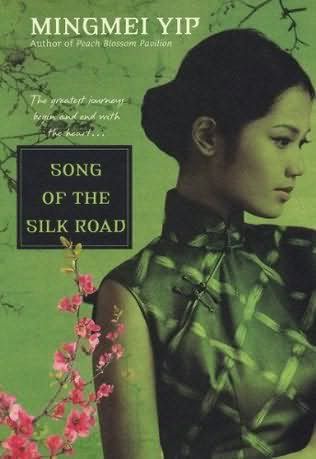 As a girl growing up in Hong Kong, Lily Lin was captivated by photographs of the desert - its long, lonely vistas and shifting sand dunes. Now living in New York, Lily is struggling to finish her graduate degree when she receives an astonishing offer. An aunt she never knew existed will pay Lily a huge sum to travel across China's desolate Taklamakan Desert - and carry out a series of tasks along the way. Intrigued, Lily accepts. Her assignments range from the dangerous to the bizarre. Lily must seduce a monk. She must scrape a piece of clay from the famous Terracotta Warriors, and climb the Mountains of Heaven to gather a rare herb. At Xian, her first stop, Lily meets Alex, a young American with whom she forms a powerful connection. And soon, she faces revelations that will redefine her past, her destiny, and the shocking truth behind her aunt's motivations...Powerful and eloquent, Song of the Silk Road is a captivating story of self-discovery, resonant with the mysteries of its haunting, exotic landscape.

My Take:
I honestly have no idea where to begin with this review, because I loved this book sooooooo much, I'm having trouble putting it into words. Anyone who knows me knows that if I can't find words, it's a big deal. I guess I'll just start with Mingmei Yip's literary voice. It is so difficult to describe, but she has an absolutely enchanting way of writing. I almost feel like I'm being lulled into a trance, a very rich and wonderful trance. Even when the action happening in the book is not super interesting, you are absolutely riveted to the page. Usually, when I am loving a book, I fly right through it, but with Song of the Silk Road, I slowed way down and savored it for about a week. Now...on to the actual story: Please excuse further gushing, but...the story was awesome. The romantic thread was great. It was well balanced with the other aspects of the story. I've got to laugh though, in the book, it seemed like every man the MC met, fell in love with her. I noticed this in the other book I read by the same author, Petals in the Sky. Normally I'd be annoyed at something like this but it just works with enchanting tone of the story I talked about earlier. You, as the reader, have also fallen in love with her a little bit yourself, so you can understand everyone else doing it too.
Okay, so I've gushed my brains out, it's out of my system, (mostly, I'm not gunna lie, I'll probably do a tad more gushing before the review is through) and I do want to impart one thing I didn't like. Like I said before, the author's voice kind of lulls you into this hazy enjoyment BUT THEN she jolts you out of your euphoric state with random strong language. Now normally I don't mention the language in my review itself, but save it for the MPAA section afterward, but the language in this book affected the writing itself, in my opinion. I'm very 1950's with my own personal language usage, with "gosh" and "darn" being the extent of it (I may throw in a "flippin" in there if I'm feeling rebellious). I never
enjoy
strong language in books per se, but I've gotten pretty good at ignoring it when it doesn't contradict the tone of the book itself. For example, James Patterson's books have the figurative mouths of sailors, but the books are so in your face anyway, you don't really notice. It was just such a bummer in
Song of the Silk Road
to hear all the random F-bombs dropped in. With that being said, I'm still going to give this book top marks because it is just amazing. It has insane resonance (I could hardly sleep the night I finished it because I kept thinking about it) the pacing is great, there are some really great twists throughout and the imagery of the setting the book conjures in your mind is just fabulous. Like I said, top marks:
1, Pay Full Price
I'd love to hear your opinion: What is your feeling about strong language in books? Do you hate it? Love it? Don't really care? Have you ever felt entranced by an author's voice before? Have you ever read anything else by this author? Do you enjoy her work? Hit the comments!

If Song of the Silk Road was a movie, it would likely be rated R for strong language and sexual content
A few words with the author, Mingmei Yip:
Q: Do you have any quirks that come out while you are writing?
A: I just plunge into my writing and ignore everything around me. Since I was a tiny girl I have always preferred life inside my own head.
Q: What is your daily routine as a writer?
A: I don't have a chance to write every day, but when I do, I write eight or nine hours non-stop, then I eat Chinese take-out and fall asleep.
Q: What inspired you to write your first book?
A: I wanted to bring to back to life the strong women of an earlier era in China when almost the only choices for women were being a wife (actually, one of several wifes sharing the same husband), a Buddhist nun -- or a prostitute. Despite this some women overcame the barriers to become independent and creative artists. Some mingji, prestigious prostitutes, also called geishas, left behind poems and paintings providing windows into fascinating but often tragic lives. I decided to give these talented, powerful women -- silent for centuries -- a voice. The result is my first novel Peach Blossom Pavilion, which I'm happy to say, is now in its fifth printing.
Q: If you had to do it all over again, would you change anything in your latest book?
A: No. I work on each until it is as good as I know how to make it. Then I move on to the next one.
Q: Do you have any advice for other writers?
A: If you mean aspiring writers, yes. Read a lot, not only to feed your imagination and creativity, but also so you know when you are writing well. When you're sure your writing is good, pursue publication until you succeed. The Daode Jing says more things are spoiled in the end than the beginning.
Don't give up until you are there.
--------------------------------------
Now for the best part...

the giveaway!
I am soooooo excited to give away a copy of this book (not my copy! I'm keeping it forever lol) below you'll find the giveaway guidelines:
1 copy is up for grabs

the giveaway will run until 5/6

to enter, simply leave a comment with your email address!
------------------------------------
***FTC Disclosure: This book was provided in exchange for an honest review, no other compensation was given, all opinions are my own***
If you are interested in purchasing Song of the Silk Road, please consider supporting The Book Buff by purchasing from the following Amazon link, thank you!
Paperback: Kindle: