Dean Fetzer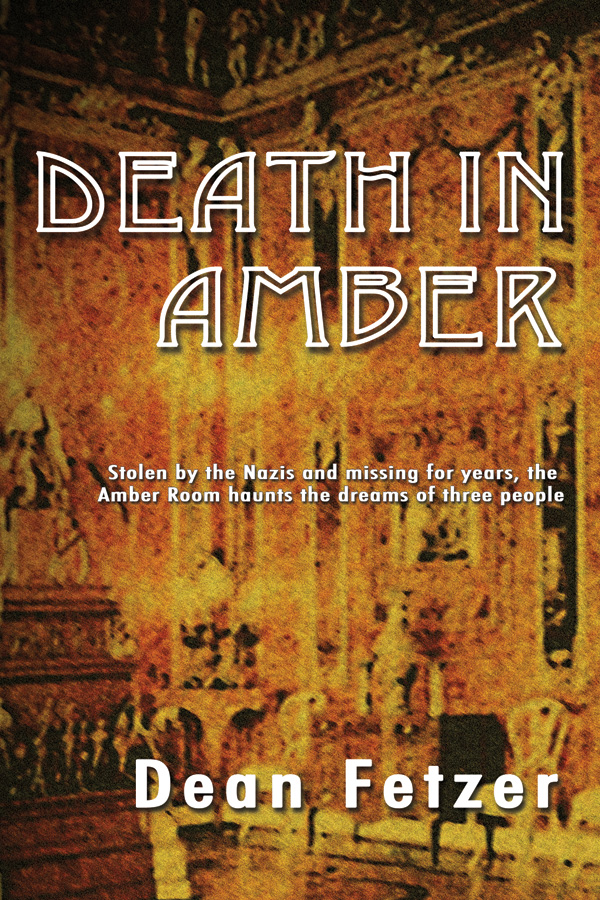 The Amber Room. A wondrous room made from panels of carved amber - a gift in the 18th Century to Peter the Great, Czar of Russia. Once part of a palace outside St Petersberg, this priceless treasure has been missing since the end of World War II. Removed from the palace by a Nazi art collection squad at the height of the war, the Amber Room was last seen in Königsbourg in late 1944 - it vanished without a trace. Now, someone knows where it has come to rest and will do anything to get it. Ninety years on and beautiful young women are being found dead with no evidence of why they died. Forensics has no clues and fewer answers. Haunted by a mysterious benefactress, Jaared Sen is hired by an old friend to find his missing niece. A Contractor for The Company, Jaared is the only one who can find her - and the Amber Room - before the killer strikes again.
My Take:
Sometimes I think the whole "epic quest to find the missing historical artifact which was stolen by Nazis and disappeared after WWII, whilst being continually thwarted by a seemingly unrelated, yet totally connected to the main plot, villain" storyline should have its own genre, preferably with a name a bit more concise than the one I just gave. Well, that is the basic plot line of Death in Amber, but the fun part is that the artifact isn't a done to death artifact like the Holy Grail, but rather a room carved in Amber as a gift to Peter the Great of Russia. So bonus points were assigned to this book for not centering the plot around The Holy Grail, the Knights Templar or anything with the words DaVinci or Code (don't get me wrong, I love all of those things, especially The DaVinci Code, but so many copycats are driving me crazy!) Anyway, aside from the novel storyline, I really enjoyed the very awesome main character. He was definitely someone you can get behind and really root for. As for the negatives of the book, for a while the storyline felt very scattered and jumpy, and I was more than a bit confused. It took some time for the book to come into its own, but eventually it did and delivered an exciting tale. I think for a rating, I'm going to give this one a 3, Find a Used Book Store.
Do you agree with my review? Do you think I'm totally off base? Either way I'd love to hear from you, be sure to leave a comment and tell me how you feel!

If this book were a movie it would likely be rated PG-13 for violence, language and sexuality
***FTC Disclosure: This book was provided in exchange for an honest review, no other compensation was given all opinions are my own***
If you are interested in purchasing Death in Amber, please consider supporting The Book Buff by purchasing from the following Amazon link, thank you!
.