Elizabeth J. Fisher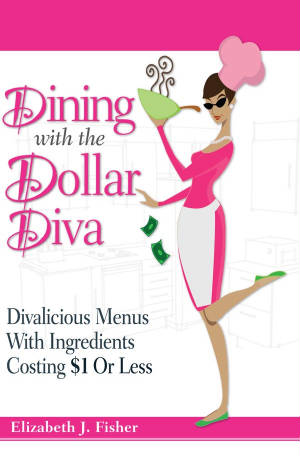 Dining with the Dollar Diva contains "divalicious" recipes created with ingredients that cost one dollar or less. Author Elizabeth J. Fisher is a practical mom who is a wiz at creating exquisite menus and dining experiences at economical prices. Each recipe is accompanied by an interesting story about how that recipe came to be created. Most ingredients can be found at your local dollar store or in the dollar section of you local supermarket.
My Take:
Let's face it, right now everyone is tightening their belts and learning to be a little more frugal. Dining with the Dollar Diva is the perfect cookbook for such economic times. This book has tons of classic recipes that have been modified so that each ingredient costs under one dollar. Some of my very favorite dishes are in here, like the Monte Cristo sandwich, Eggs Benedict and Creme Brulee. There's also some fun new recipes like S'More Pie. I really enjoyed all of the little stories she told with many of the recipes. The stories included how she came across each recipe and the interesting characters she came across during the process of putting the book together. The whole book very much puts out a laid back girlfriend to girlfriend vibe. The recipes are fun, inventive and easy to make. If you are a Recessionista looking for a way to downsize your grocery budget but still fill your family's tummies with delicious food, this book is definitely one to check out! I don't know if I'd pay full price for this cookbook, but dang near close, and I therefore rate it as a 2, Borders with a Coupon.
Do you agree with my review? Do you think I'm totally off base? Either way I'd love to hear from you, be sure to leave a comment and tell me how you feel!
Appropriate for all audiences
***FTC Disclosure: This book was provided in exchange for an honest review, no other compensation was given, all opinions are my own***
If you are interested in purchasing this book, please consider supporting The Book Buff by purchasing from the following Amazon link, thank you!