Lauren Lipton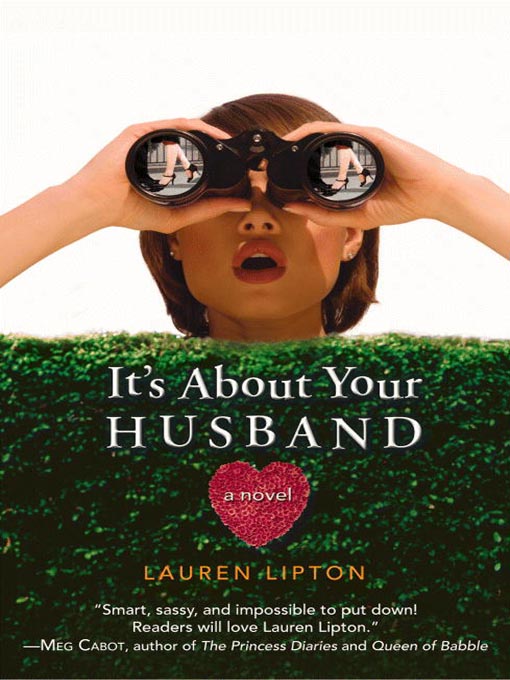 "What do you do when the big apple bites back?
San Fernando Valley native Iris Hedge left her husband and traded coasts for the job of a lifetime--only to lose it in a New York minute. Now unattached, unemployed, and broke, she dreads her loneliness and imminent credit card bills...until she's offered and exciting new gig: spying on possibly cheating, uptown husband named Steve. Soon Iris is trading her business wardrobe for he stalker chic of sweatpants and dark eyewear, and navigating the hazards of urban surveillance--Central Park's fascist dog-walking rules, rejection from exclusive boutiques, and a series of unnatural hair colors. But as she steps into uncharted territory, she wonders if her life will ever go back to normal--and whether normal is anything she'll ever be happy with again."
My Take:
"It's About Your Husband" was like a steam engine train, slow to start, but once it gets going it can't stop. In the beginning, I found myself not really caring what happens to any of the characters in the story. About a third of the way through, I was simply reading it just to finish it, but at about the half way point, it really picked up speed. I found I was unable to put it down, especially toward the end. I somewhat predicted the ending, but I have to say that when I did finish it, I didn't mind that I had guessed it. By the end I was heavily rooting for the main character, and found her to be very realistic. I also enjoyed that the book was from a New York newcomers perspective. The totally chic and over-styled Manhattan-ites seemed so snooty and inaccessible, but the writer shows you, through the eyes of someone you could relate to, that everyone has layers and feelings. Even pampered princesses that live in the ritziest parts of town can develop meaningful friendships with the average Joe or Josie like you or me. It's About Your Husband" is very light and fluffy, and would be good for a long car ride or flight. Overall I would rate this book at a 3,
Find a Used Book Store
, its very enjoyable, but I think that if you payed full price for it you wouldn't like it as much.
Do you agree with my review? Do you think I'm totally off base? I'd love to hear about it either way! Be sure to comment and tell me how you feel!
Like this Author? Check her out at
www.laurenlipton.com/
Like this book? Try Wicked, see my review
here
Also, take a look at some other
romances
I've reviewed.